Community Brainstorms New Park Plans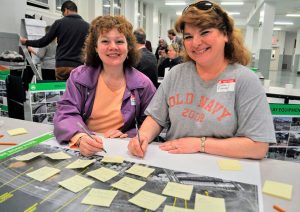 Bay Ridgites brainstormed features and programs they'd like to see in the multi-million-dollar reboot of Shore Road Park at a meeting on April 27. Local conservationists and Parks Department workers poured over maps of the park at Fort Hamilton High School and put their heads together to develop a wish list. This is the first step in a long journey to revitalize the sprawling parkland, said the Parks Department's borough commissioner.
For those who couldn't make it to the meeting, or who have a fresh thought they'd like to share with parks designers, Nelson, Pope, and Voorhies is accepting e-mailed suggestions for the next two weeks at rschmidt@nelsonpopevoorhies.com.
Read more: http://www.brooklyndaily.com/stories/2017/18/br-shore-road-park-redesign-2017-05-05-bk.html
Posted by Admin on Monday, May 8th, 2017 @ 2:31PM
Categories: News